Weather Station At Vantage Point
Live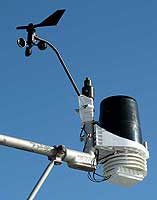 weather data are now collected and shared from Vantage Point. In November, 2005 crews mounted a Davis Vantage Pro wireless weather station on the 112-foot tall tower at Vantage Point.
The instruments are mounted about 120-feet above ground. This location is ideal for the collection of weather data at the location on the St Clair and Black Rivers.
The weather station provides real time conditions to visitors to the Desmond Landing Development. The captured data are uploaded to the Internet using a computer running Virtual Weather Station. Beyond sharing the information to website visitors, the data collected at the location are also shared across a regional network of weather observation stations.
▪ Detailed Weather Conditions
▪ Daily Tabular Data
▪ Summary
▪ Shared Data